Dentures Serving Cincinnati, OH
Dentures are a time-tested solution to missing teeth, popular with historical figures from Founding Fathers to Roman elites. With today's advanced dental techniques, there are more permanent and natural-looking solutions, such as dental implants and bridges, but many patients still prefer the cost-effectiveness and relative convenience of dentures.
Although dentures are a simple concept, it is important to trust your artificial teeth to an experienced dentist who can ensure your customized dentures will fit well, be comfortable and last many years. A trusted dentist can also guide you in choosing among several options for your dentures.
What Are Dentures?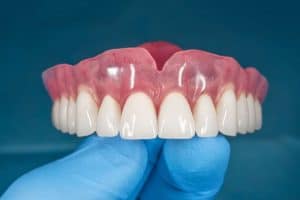 Dentures replace several missing teeth or an entire arch of teeth. These removable prosthetic appliances can restore your smile after natural tooth loss from gum disease, trauma or tooth decay. There are many types of dentures ranging from conventional to immediate and implant-supported dentures.
Candidates for Dentures
People missing multiple teeth or requiring several tooth extractions due to tooth decay or injury can qualify for dentures. Full dentures are best for those missing all of their teeth on the upper and/or lower jaw, and partial dentures replace several missing teeth. Most patients interested in dentures are good candidates for the prosthetic.
Benefits of Dentures
When you lose multiple teeth, your jawbone recesses and your face sags, but dentures can restore your facial shape and make you appear younger. Dentures can improve self-esteem and give you a set of prosthetic teeth you're happy to show off with a smile to friends and family. The support provided by dentures improves speaking abilities and allows you to chew food once again.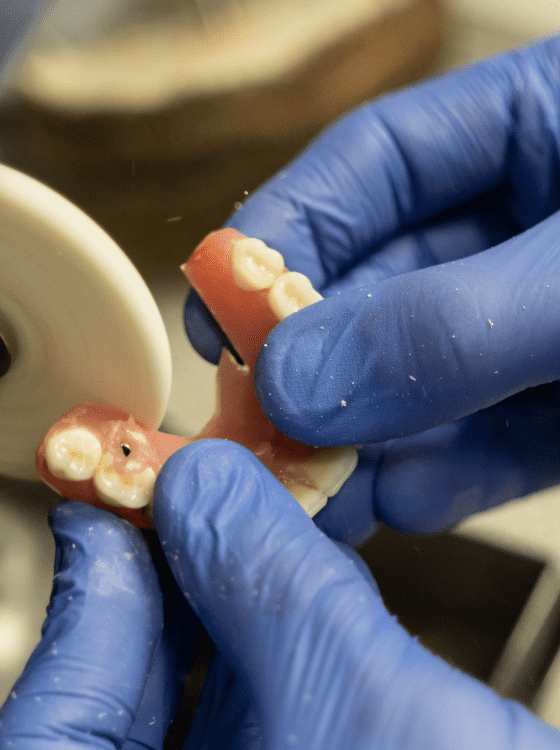 Types of Dentures
When your dentures are meant to replace a full set of teeth, your appliance will be a single arch that is referred to as a complete set of dentures. It rests on your gums and is removable for eating, cleaning, sleeping or vigorous physical activity. Partial dentures are popular with patients who retain many of their natural teeth. This type of appliance is more stable, as they are attached to existing teeth. Immediate dentures may be offered to patients after tooth extractions, while they are waiting for conventional dentures to be custom made.
Implant-Supported Denture Options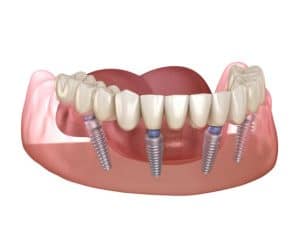 Partial dentures can also be anchored by crowns on adjacent teeth or dental implants, strong titanium-rooted artificial teeth that are surgically implanted in the mouth. Using as few as four implants, patients can secure partial dentures, a bridge or a specific type of bridge known as All-on-Four. An additional option is to replace each missing tooth with a dental implant, but this can be expensive, and requires a significant investment of time in the process.
Many patients especially prefer implants for the lower jaw, where dentures or bridges are less stable, as they must leave room for the tongue. And because implants are deeply rooted in the jaw, they also perform the same essential function as the roots of natural teeth: stimulating the jaw bone. Without this type of natural stimulation, the bone will lose strength and volume, which will affect the shape of your facial profile. This is why some seniors may look older than their age: bone loss in the jaw creates the appearance of a weak chin, hollow cheeks, sunken mouth and attenuated facial profile.
Consultation for Dentures
During your dental exam and consultation at Pearce Dental Group, our dentists will examine your mouth, gums and jawbone. We will discuss your medical history, overall health and options for restoring a complete set of teeth. We may take X-rays and CT (computer tomography) scans for a better view of your oral health. Come prepared with a list of questions to ask during your denture consultation.
Denture Placement Process
When you choose dentures, Dr. Pearce will schedule several appointments to take measurements in your mouth, create your customized dentures and ensure you are satisfied with the fit. An impression of your teeth will be made from a mold that you will bite into, and this is used to create not only your final set of dentures, but also a model of your teeth and a set of temporary wax dentures that you will wear to gauge the fit and comfort level of your permanent set.
Once your dentures are fabricated, Dr. Pearce will take the time to ensure you are completely satisfied with their look and feel. After all adjustments have been made, you will have a complete set of teeth — and a new sense of freedom and confidence.
Risks and Safety Information for Dentures
Dentures are a tried-and-true method of replacing many missing teeth. However, there are some risks and complications of the removable appliance. You may experience mouth pain, loose teeth, swelling, mouth soreness, bleeding gums, gum abscess (infection) and other issues from a poorly fitted set of dentures.
You can avoid many of these risks by choosing an experienced and highly skilled dentist, such as one of our dental professionals at Pearce Dental Group.
Recovery After Denture Placement
Recovery from dentures depends on the circumstances. Someone with multiple tooth extractions will have a longer recovery than someone who naturally lost their teeth and whose tissues have healed. Generally, you will want to work your way up to a regular diet to help your mouth grow accustomed to the appliance.
Our dentists will provide instructions for taking care of your dentures and warning signs of complications, such as infection. Contact our Cincinnati office if you have concerning symptoms after denture placement.
Denture Results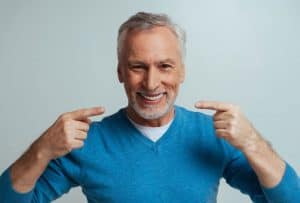 The timeline for denture results depends on the patient. Immediate dentures may be placed right after tooth extraction but later replaced with conventional dentures when the mouth has healed fully. Implant-supported dentures will take time to heal, and the process starts with implanting the titanium post and allowing the tissues to heal and the implant to fuse with the jawbone.
High-quality, durable dentures that are removable may last up to 10 years, whereas implant-supported dentures can last up to 15 years.
Cost of Dentures
The cost of dentures depends on the type of denture you choose to replace your missing teeth. Conventional dentures will be less expensive than implant-supported ones but need replacing sooner. Our patient coordinators can provide a detailed price estimate for dentures so you understand the full scope of dental services required, and we may be able to help with financing options.
Alternatives to Dentures
Dental implants are the most popular alternative to dentures. These implanted posts and artificial teeth look, feel and function like your natural teeth and do not require special care. Our dentists can discuss your alternative options to dentures during your dental exam and consultation.
Schedule Your Consultation at Pearce Dental Group
To learn more about dentures, schedule an appointment with experienced southwestern Ohio dentist Dr. Troy Pearce by contacting his Cincinnati office today.