Same-Day Crowns Serving Cincinnati, OH
How Traditional Crowns Work
Dental crowns have traditionally involved a two-step process. A patient needing a crown for major damage to the tooth, or as an anchor for a dental appliance, would first schedule an appointment that would be devoted to taking measurements, making molds and preparing the tooth for the procedure. Then, both dentist and patient would wait.
The patient would be sent home with a temporary acrylic crown and the dentist would forward the oral "blueprint" to an outside laboratory that would fabricate a permanent crown at its facility.
Same-Day Dental Crown Benefits
As a premier Cincinnati dentist, Dr. Pearce knew there was a better way, a 21st-century solution that uses advanced technology and proprietary software to allow dental offices to create strong, natural-looking ceramic crowns on-site, often within minutes. Pearce Dental Group is proud to offer same-day crowns using this state-of-the-art system.
How CEREC Technology Works
This unique convenience is made possible by a piece of equipment that is part milling unit, part 3D printer and part supercomputer. It's known as CEREC, or Chairside Economical Restoration of Esthetic Ceramic. CEREC creates custom restorations for a variety of dental conditions, and is revolutionizing the dental crown experience for patients and dentists alike.
A key feature of the CEREC process includes Primescan intraoral scanning which provides digital imaging with a higher resolution than traditional X-rays. These images are processed by CEREC, which then fabricates a new crown using its precise milling technology. This happens while you wait. In fact, the milling and grinding process that will create your crown can take as few as five minutes. The entire process can be over in about an hour.
The CEREC unit allows Dr. Pearce to achieve a higher level of customization for your crown or other restoration. In a single appointment, he is able to produce a model of your teeth using the advanced scanner, and create a high-quality permanent dental crown that you will wear home.
CEREC Crown Placement Process
To accommodate the new crown, the affected tooth will be slightly reshaped, a quick process that is done using local anesthetic. This slight grinding away of the surface ensures the new crown will fit well when it is bonded to the tooth.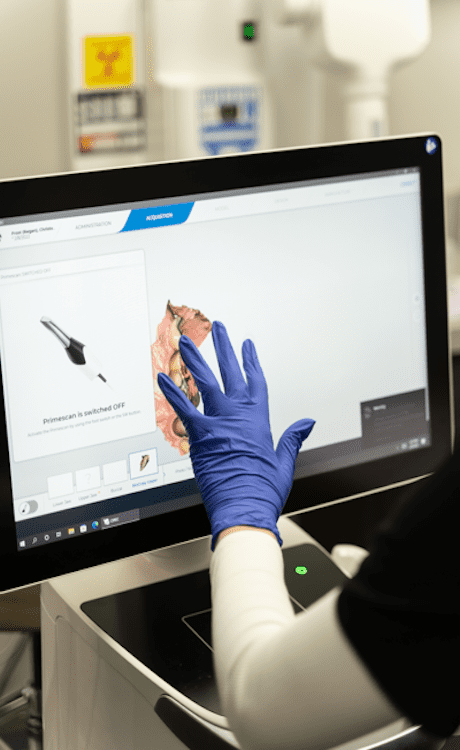 Results
Because CEREC's precision guarantees an optimal fit, less reshaping of your natural tooth is necessary, compared with the traditional two-step process. This means your newly crowned tooth is stronger, less vulnerable to injury and much less likely to ever develop an abscess. It's also comforting to know that most of your natural tooth is still there, protected by CEREC's securely bonded, perfectly sized and completely natural-looking crown.
To learn more about dental crowns using the CEREC system, schedule an appointment with experienced southwestern Ohio dentist Dr. Troy Pearce by contacting his Mason or Cincinnati office today.