Cosmetic Dentistry Serving Cincinnati, OH
Cosmetic dentistry is truly our focus in whatever services are provided in our office. Whether you need a filling on a back tooth or a full set of porcelain veneers, our goal is to always strive to mimic nature in the most conservative and minimally invasive way possible.
When we discuss cosmetic options with our patients, our goal is to define the goals for each individual. The range of procedures can be as simple as whitening, Invisalign, veneers, crowns or dental implants. The best-looking smile is one that looks as natural as possible, and can be accomplished in the most conservative way possible.
What Options Are Included under Cosmetic Dentistry?
Advanced, artistic dentistry will help you find the confidence that comes with a radiating smile. At Pearce Dental Group, there are many cosmetic options to fit your lifestyle, dreams and expectations.
Premier Cincinnati dentist Dr. Troy Pearce offers porcelain and composite veneers that can rejuvenate your smile by covering discoloration, chips, imperfections and even lessening the appearance of gaps. Crowns provide a protective barrier for teeth damaged by cavities; and missing teeth can be addressed by technologies ranging from dentures to bridges to resilient dental implants. Misaligned teeth can benefit from Invisalign and other orthodontic treatments. And the latest teeth-whitening products and procedures vanquish stains and discoloration, transforming dull into dazzling.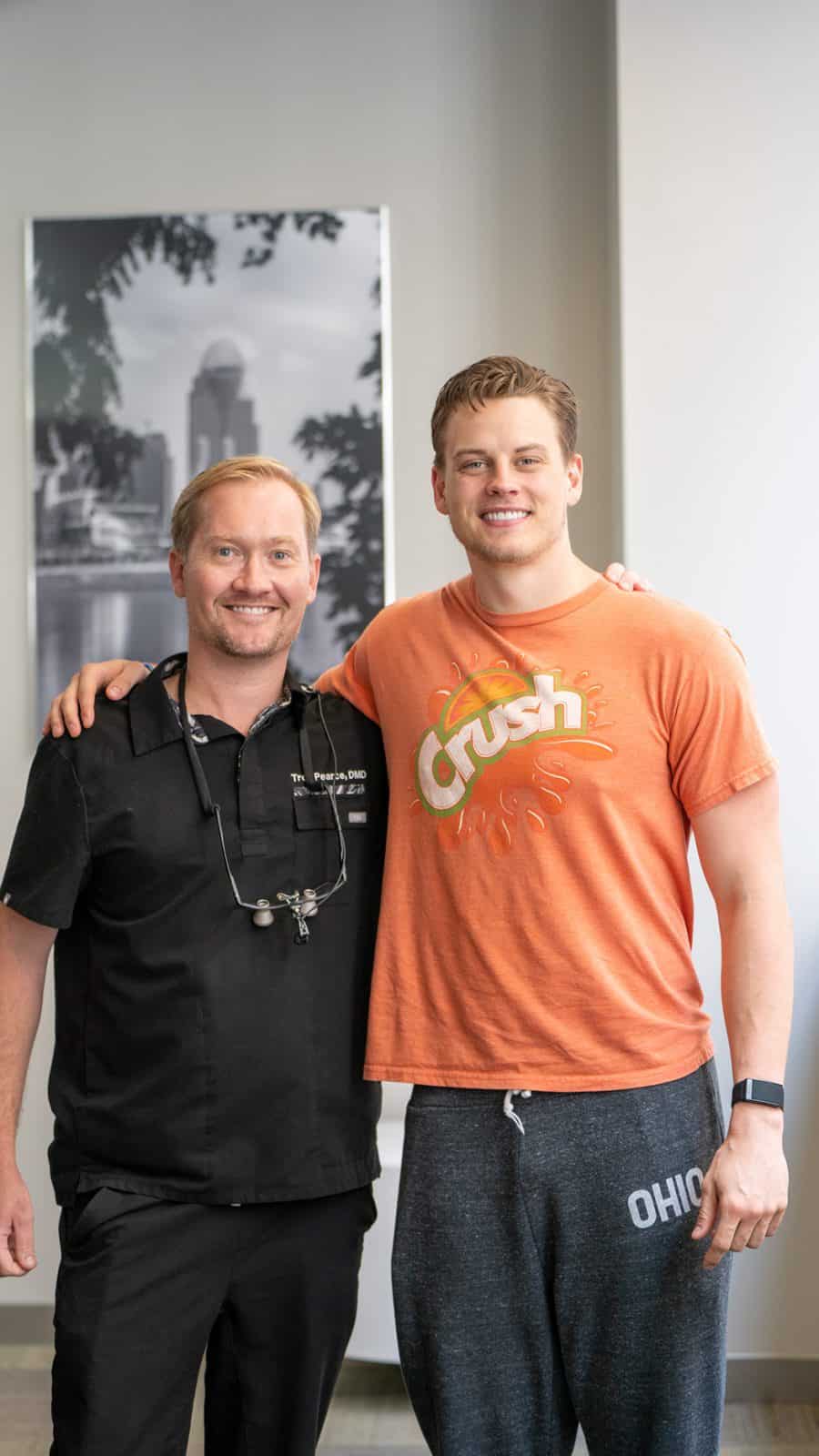 JOE BURROW | BENGALS QB
Professional Teeth Whitening
If you've tried over-the-counter teeth whitening products, you know that this option produces limited results and sensitivity, and the expense can be significant. Whitening toothpastes, strips, rinses and home kits are effective at lifting some stains, but cannot improve intrinsic stains under the tooth surface that are giving your teeth a yellow, gray or darker appearance. Because these products are not precisely targeted, they can also damage gum tissue.
Dr. Pearce will guide you in choosing the most appropriate teeth-whitening option. Many in-office treatments can whiten teeth in under an hour. Home options with a custom mouth tray are also available, to help preserve your new smile for the long-term. Because your whitening is provided by an experienced dentist, there is no need to worry about inflammation, increased tooth sensitivity or other common side effects of store-bought solutions.
Cosmetic Dentistry and Oral Health
The most beautiful smiles are healthy smiles. That is why Dr. Pearce pays attention not just to the surface appearance of your smile, but also to issues of oral health that can impact the integrity of your gums and the stability of your teeth.
Renewal and restoration is all about correcting serious issues, not hiding them. In this process, it is important for a dentist to consult closely with the patient, to understand his or her expectations. We all have an image of our dream smile, and Dr. Pearce can help you achieve it. He will design a treatment plan around the current state of your oral health, any existing complications or conditions, and your preferences. Working together, it won't be long before your smile truly does become a source of joy — enhancing your look, boosting self-confidence and brightening your life.
To learn more about cosmetic dentistry options, schedule an appointment with experienced southwestern Ohio dentist Dr. Troy Pearce by contacting our Cincinnati office today.