Cosmetic Dentistry Serving Cincinnati, OH
What is Cosmetic Dentistry?
Cosmetic dentistry is truly our focus in whatever services are provided in our office. Whether you need a filling on a back tooth or a full set of porcelain veneers, our goal is to always strive to mimic nature in the most conservative and minimally invasive way possible.
When we discuss cosmetic options with our patients, our goal is to define the goals for each individual. The range of procedures can be as simple as whitening, Invisalign, veneers, crowns or dental implants. The best-looking smile is one that looks as natural as possible, and can be accomplished in the most conservative way possible.
Candidates for Cosmetic Dentistry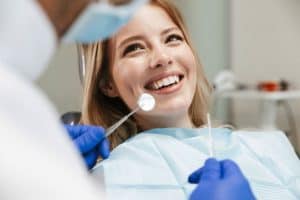 Most people with tooth flaws and imperfections qualify for cosmetic dentistry, including tooth chips, misshapen teeth, tooth gaps and stains. However, good oral health is necessary before having a cosmetic procedure, and gum disease, tooth decay or other dental problems must be addressed first.
Benefits of Cosmetic Dentistry
A good-looking smile can make you feel like you're on top of the world. Cosmetic dentistry allows you to flash your pearly whites with pride, increasing your confidence and making you more likely to ask that special someone out on a date or go for that job promotion. You don't have to hide behind closed lips anymore.
People who are proud of their smiles tend to take better care of their teeth, and cosmetic dentistry may improve oral health and minor bite issues. Cosmetic dentistry offers long-lasting results that can address nearly all aesthetic tooth issues.
Types of Cosmetic Dentistry
Advanced, artistic dentistry will help you find the confidence that comes with a radiating smile. At Pearce Dental Group, there are many cosmetic options to fit your lifestyle, dreams and expectations.
Premier Cincinnati dentist Dr. Troy Pearce offers these options:
Porcelain and composite veneers that can rejuvenate your smile by covering discoloration, chips, imperfections and even lessening the appearance of gaps.
Crowns provide a protective barrier for teeth damaged by cavities.
Missing teeth can be addressed by technologies ranging from dentures to bridges to resilient dental implants.
Misaligned teeth can benefit from Invisalign and other orthodontic treatments.
The latest teeth-whitening products and procedures vanquish stains and discoloration, transforming dull into dazzling.
Cosmetic Dentistry Consultation
Our dentists can discuss your cosmetic dentistry options during your routine dental exam and cleaning, and we can also schedule a separate visit to discuss these procedures in more detail. Make sure you come prepared with a list of questions and ready to discuss your oral health, medical history and smile goals.
X-rays and CT (computer tomography) scans may be necessary to examine the state of your entire mouth.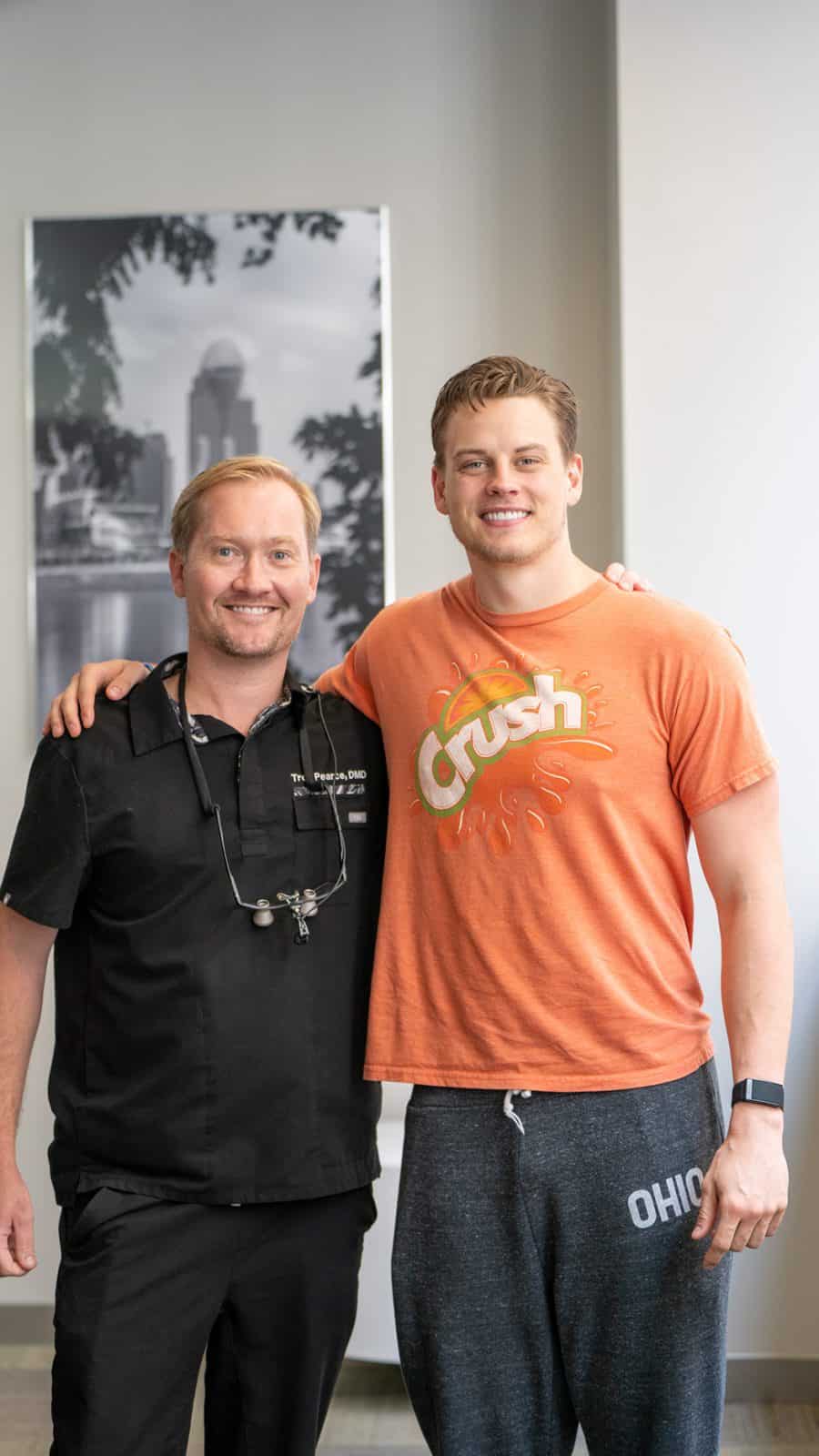 JOE BURROW | BENGALS QB
Professional Teeth Whitening
If you've tried over-the-counter teeth whitening products, you know that this option produces limited results and sensitivity, and the expense can be significant. Whitening toothpastes, strips, rinses and home kits are effective at lifting some stains, but cannot improve intrinsic stains under the tooth surface that are giving your teeth a yellow, gray or darker appearance. Because these products are not precisely targeted, they can also damage gum tissue.
Dr. Pearce will guide you in choosing the most appropriate teeth-whitening option. Many in-office treatments can whiten teeth in under an hour. Home options with a custom mouth tray are also available, to help preserve your new smile for the long-term. Because your whitening is provided by an experienced dentist, there is no need to worry about inflammation, increased tooth sensitivity or other common side effects of store-bought solutions.
Porcelain Veneers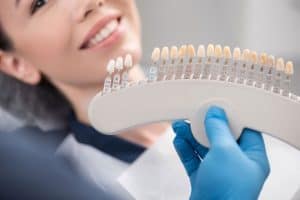 These thin porcelain shells mimic the natural sheen of your tooth enamel. They are bonded to the front of a damaged tooth after minimal tooth preparation and offer a long-lasting solution for misshapen teeth, severe tooth stains, tooth chips and other aesthetic flaws. You can choose the shape and shade of your porcelain veneers and may combine the procedure with teeth whitening for a brighter smile.
Dental Bonding
Cosmetic dental bonding uses the same tooth-colored composite resin material that fills in cavities. Rather than restore tooth function and health, cosmetic bonding is performed to repair minor tooth imperfections. Dental bonding is a quick and reversible cosmetic dentistry option for people with small chips, tooth gaps, misshapen teeth and discoloration.
Dental Crowns
Dental crowns are caps that look and feel like your natural teeth. These caps are often placed over damaged teeth but are also used for cosmetic purposes. Dental crowns require more tooth preparation than porcelain veneers and are more invasive. However, they can restore function and aesthetic appeal for more severe issues, such as large cracks, chips and deep tooth stains. Same-day dental crowns are available with CEREC technology.
Dental Implants
Dental implants are the ideal way to replace missing teeth. They provide restorative and cosmetic benefits by strengthening the jaw, improving oral health and filling in the unsightly gap left by the missing tooth. Dental implants are titanium posts implanted in the jawbone connected to a dental crown using an abutment (screw-like device). They look, feel and function like your natural teeth and don't require special care, unlike bridges and dentures.
Invisalign
Crooked, gapped or otherwise misaligned teeth may cause you to shy away from smiling and affect your self-esteem. Invisalign clear aligners offer a discreet way to straighten your teeth without years of metal braces in your mouth. These medical-grade plastic trays gradually shift your teeth into their desired placement. You can take them out to eat and drink, and there are no food limitations, unlike traditional orthodontics.
Smile Makeover
A smile makeover combines cosmetic dentistry options to improve several aspects of your smile. Teeth whitening, porcelain veneers and dental implants may all be used to achieve your goals for your teeth.
Cosmetic Dentistry and Oral Health
The most beautiful smiles are healthy smiles. That is why Dr. Pearce pays attention not just to the surface appearance of your smile, but also to issues of oral health that can impact the integrity of your gums and the stability of your teeth.
Renewal and restoration is all about correcting serious issues, not hiding them. In this process, it is important for a dentist to consult closely with the patient, to understand his or her expectations. We all have an image of our dream smile, and Dr. Pearce can help you achieve it. He will design a treatment plan around the current state of your oral health, any existing complications or conditions, and your preferences. Working together, it won't be long before your smile truly does become a source of joy — enhancing your look, boosting self-confidence and brightening your life.
Risks and Safety Information for Cosmetic Dentistry
The risks of cosmetic dentistry depend on your chosen procedure. Our experienced dentists will go over the potential complications of your procedure and treatment plan during your consultation. You will be given information on problems to watch for while you heal and may contact our office about any concerns you have after cosmetic dentistry.
Cosmetic Dentistry Recovery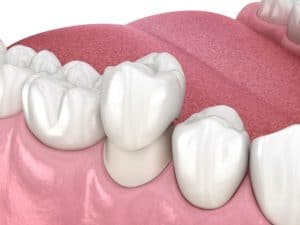 The recovery process also varies for cosmetic dentistry. Teeth whitening and dental bonding require no healing time, but porcelain veneers, dental crowns and dental implants involve more extensive dental work. Healing after these procedures may include food restrictions, pain medications and special care for the tooth, gums and mouth.
Cosmetic Dentistry Results
Teeth whitening and dental bonding provide immediate results that can last several years. Dental implants are a multi-step procedure that takes several months to reach the end result but may last a lifetime. Porcelain veneers and dental crowns may require multiple appointments with temporary veneers or crowns placed first while the permanent restorations are custom-made. Veneers and crowns may last a decade or longer with proper care.
Cost of Cosmetic Dentistry
Cosmetic dentistry expenses vary based on the type and the number of procedures. Pearce Dental Group can provide a detailed cost estimate after your dental exam and consultation and can help with financing options so you can improve your overall smile affordably.
Schedule Your Cosmetic Dentistry Consultation
To learn more about cosmetic dentistry options, schedule an appointment with experienced southwestern Ohio dentist Dr. Troy Pearce by contacting our Cincinnati office today.