Dental Bonding Serving Cincinnati, OH
What Is Dental Bonding?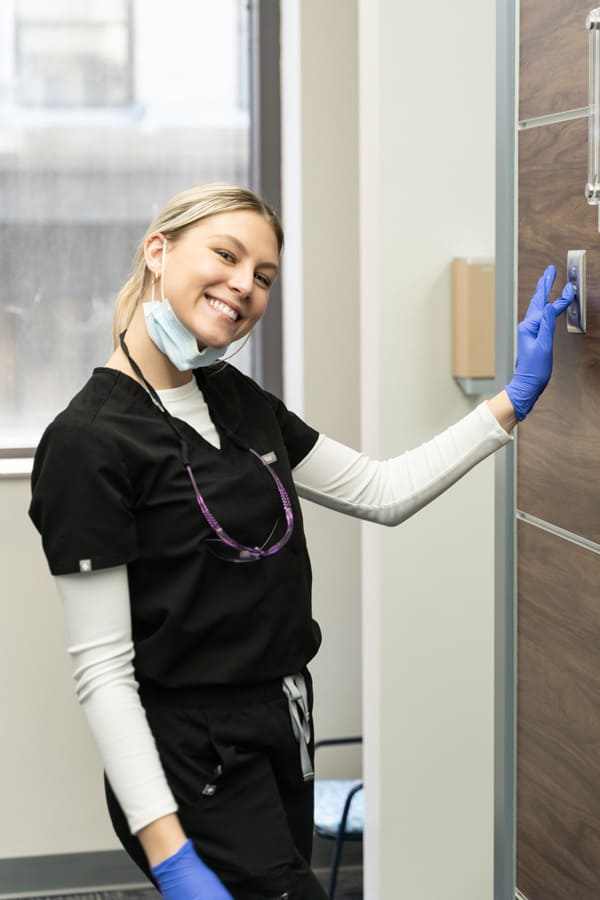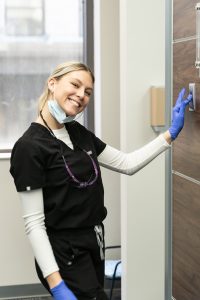 Bonding is a dental technology that has been proven over many decades, and more common than you might think. Bonding involves use of a strong adhesive to join composite materials to a tooth, providing effective repairs for cracked, chipped or otherwise damaged teeth.
Bonding is also central to the treatment of cavities, repairing missing teeth and covering stained teeth. Crowns, veneers and bridges are all secured in the mouth using this same long-lasting dental adhesive. In addition, bonding can fill in cracks, make gaps between teeth less noticeable, smooth tooth edges, make teeth wider or more symmetrical, and even give slightly crooked teeth the appearance of being straighter.
Candidates for Dental Bonding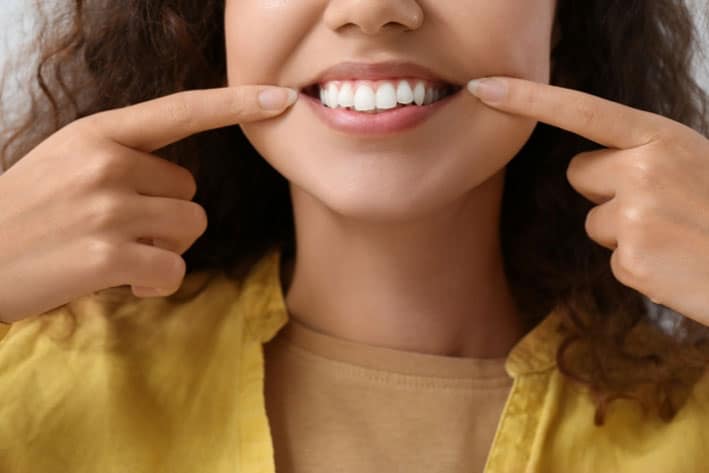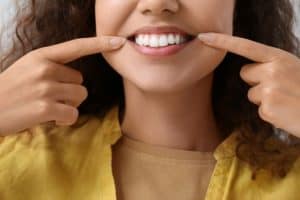 Candidates for dental bonding have cosmetic flaws with one or more teeth. This dental procedure is best for people with minor aesthetic issues, such as tooth discoloration, chips, gaps between teeth, minor cracks, exposed tooth roots, misshapen teeth and minimal tooth decay.
Dental bonding requires good oral health with strong tooth enamel and roots. Gum disease, cavities and other dental problems must be addressed before dental bonding.
Cosmetic Dental Bonding Benefits
Bonding is an inexpensive alternative to veneers, and has the added benefit of preserving all of the natural tooth. When a patient selects porcelain veneers, some of the
tooth's enamel is ground away to accommodate the veneer that will be attached to the tooth. With bonding, composite material is applied directly to the tooth surface and sculpted by a dentist to cover imperfections.
Because no part of the natural tooth is removed, bonding can be reversed at a later date. Many patients prefer the freedom to change their mind, as well as the convenience and cost-effectiveness of bonding. By contrast, veneers do last longer than bonded material.
Dental Bonding Consultation
Our dentists can discuss your dental bonding and cosmetic dentistry options during your routine dental exam and cleaning at our Cincinnati office. If you have multiple aesthetic concerns, a smile makeover may be a better fit for you, which combines dental bonding, teeth whitening, porcelain veneers or dental crowns to transform your smile and meet your cosmetic goals. A separate consultation may be necessary to discuss your options in more detail.
The Dental Bonding Process
The procedure itself is simple and fast. This is where the artistic skill of a dentist is as important as the precision of the technique. With an eye for balance and beauty, Dr. Pearce will ensure your dental bonding procedure is successful and satisfying.
When bonding is used to treat a cavity, Dr. Pearce typically applies a local anesthetic, although the procedure is so pain-free that sometimes even this modest step is not needed. Using a mild solution containing a low concentration of phosphoric acid, Dr. Pearce prepares the surface of the tooth and applies the bonding agent as a liquid.
Composite resin bonding material is added to the tooth meticulously, layer by layer. When it reaches sufficient volume, Dr. Pearce begins to mold it into the desired shape and size. The process is similar to the way a craftsman molds putty to achieve beautiful form and function.
At each stage a curing light is used to heat the material, sealing the bond. The curing light is focused on the tooth after each layer is applied; the process is repeated until the restoration has achieved maximum strength and beauty. To finish, Dr. Pearce coats the tooth with a protective finish.
Risks and Safety Information for Dental Bonding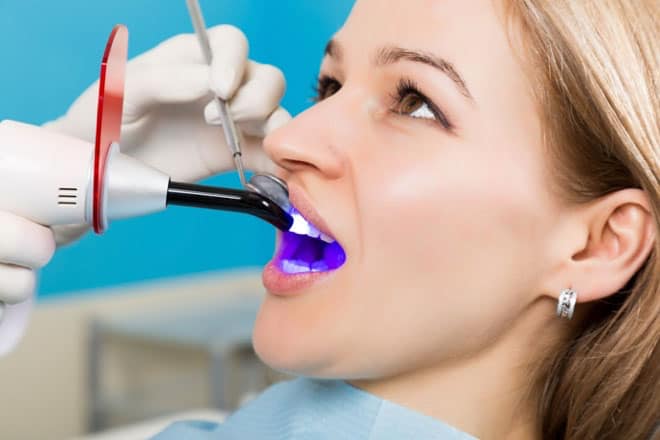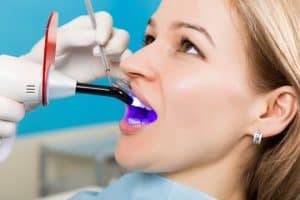 Dental bonding is a safe and effective way to improve cosmetic tooth flaws. However, every dental procedure comes with risks. Though complications from dental bonding are rare, they may include infection, staining, mouth injury and tooth damage from force during the treatment. A local anesthetic is used that may cause adverse reactions such as allergic reaction, nerve damage or injury to the blood vessels.
You can decrease your odds of these complications by choosing a skilled dentist and following all recovery instructions. Tell our dentists about any allergies and contact our office about concerning symptoms afterward.
Dental Bonding Recovery
Your mouth will be numb for several hours after your dental bonding procedure, and you should feel little to no discomfort when the anesthetic wears off. Chewing, talking and drinking may be challenging while the area is numb.
You can go back home or to the office and resume your everyday routine after dental bonding. No recovery time is necessary for this cosmetic dentistry procedure.
If your bite feels uncomfortable or you have pain in the treated area, contact our office. Other concerns to watch for include bleeding, fever, mouth or tooth pain, sharp edges from the bonding material and issues chewing.
Dental Bonding Results
You can enjoy your dental bonding results as soon as the anesthetic wears off. The cosmetic improvements from dental bonding can last three to 10 years, depending on how well you care for them.
Make sure you brush twice daily, floss once a day and schedule regular dental exams and cleanings to maintain a healthy mouth.
Cost of Dental Bonding
Dental bonding costs vary, but the average is $300 to $600 in the United States. Our patient coordinators can provide a detailed cost estimate for your dental bonding procedure, and our office offers financing options to help you improve your smile.
Alternative Options for Dental Bonding
Dental bonding is an excellent option for minor aesthetic issues like small cracks. However, severe tooth flaws may require alternative cosmetic procedures. Porcelain veneers are often used to address tooth imperfections. These thin shells cover the front of the damaged tooth and are made to match the shade of your surrounding teeth. Dental crowns are caps placed over damaged teeth to restore function and aesthetic appeal.
Schedule a Consultation at Pearce Dental Group
To learn more about dental bonding applications and options, schedule an appointment with experienced southwestern Ohio dentist Dr. Troy Pearce by contacting our Cincinnati office today.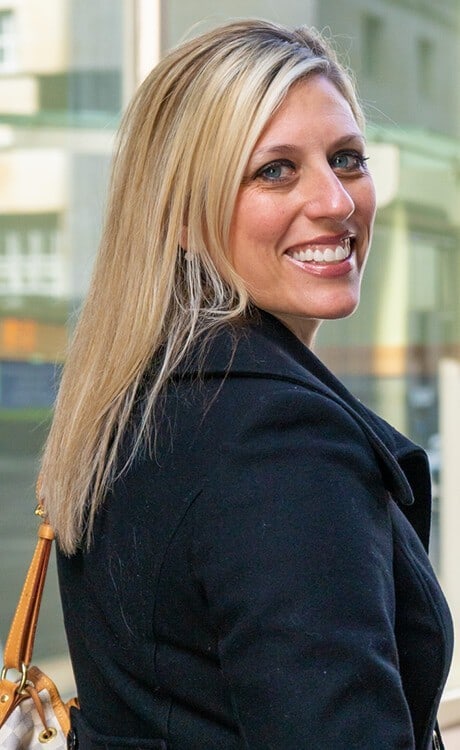 Actual Patient